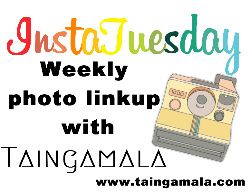 I meant to share these photos a little while back, but I just never got around to it. I picked up these super cute flats at
Steve Madden
and the purse at the
Vera Bradley
outlet back when we visited Naples (ps - is it cheating if they are technically not Instagram photos?)
I thought they were all really great fall pieces!
I am very excited for tonight as it is going to be my first session with a trainer at
Amped Fitness
here in Charleston. I've never worked out with a trainer before, but I know that now is the time. I am in serious need of someone whipping me into shape and while I don't know if I plan on doing this for the long-term, I know that it is going to take someone other than just myself to help me get motivated. I am hoping to lose 20 lbs. by Christmas. It would be a great feeling to go home and have people who I haven't seen in a while, tell me that I look great. I know that might sound prentencious, but I need to feel good about myself again.
Another great reason for me to get into shape:
Weapons of Mass Reduction Fitness Challenge!
My girl, Becca, over at
Southern Roots and Combat Boots
is hostessing a little 30-day fitness challenge. My goal is to lose 10 lbs. by the end of this challenge which started yesterday. Wish me luck! And also, any healthy recipes for meals/snacks or other advice would be greatly appreciated :)
**Note to Becca: Sorry for not promoting the contest sooner, I didn't have my laptop while we were out of town =\
I have not been feeling good about myself (having to buy up a size in pants is not uplifting.) I used to play sports in high school and was always very active. As the years passed by, I found it harder and harder to make use of my gym membership and finally cancelled it. I'm sure most of you know what I mean when I say it's hard to find the energy to workout while working full-time and still finding time to cook dinner, do laundry, and all the other fun, social things that we like to do. I just have to keep reminding myself how much better and healthier I'll feel in the end. Not to mention that if there is a wedding dress and babies in my future, I best be getting started now! I also plan to document my progress to some extent in my blog, so feel free to cheer me on! ;)
Ok, sorry to turn this fun InstaTuesday post into a blah, I feel terrible about myself post. I know it's only Tuesday, but hope everyone is having a great week so far!