I slacked off last Thursday because of Thanksgiving and I never did post a TFB post (even though I said I would, oops!) I'm making up for it now though :)
This week, I am happy to announce my five featured blogs:
I highly enjoy keeping up with all of these lovely ladies and recommend you go check them out as soon as possible!
In other news, I received the dress (and back-up dress) that I rented for S's holiday party. I quickly found once I tried them both on that neither were going to work :( The red dress that I rented was too small and I couldn't zip up the side zipper. On the black one, the straps were way too loose and it was a bit low-cut for my taste and for a military function.
I called Rent the Runway first thing this morning and they got right on sending me out two more dresses (for free except shipping) to try out. I am very excited and just know that one of them will work! I also have the cutest Nine West shoes that I got a couple years ago that are perfect for a holiday party and I can't wait to wear them again.
top of shoe: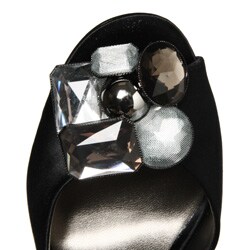 The alternate dresses: Shoshanna (pockets and a bow?! I'm sold!)
Milly:
The Milly dress has a scoop back with a bow at the bottom, very cute.
I'm also very excited to go hang with our friends Heather (my old roommate) and her fiance, Will, tonight. They have a Brittany Spaniel named Jackson who I just know Gunner is going to LOVE. I think S and I will be relieved as well after he plays out some of that energy with his new friend.
Hope y'all are enjoying your Thursday (almost Friday!!) Cheers!