Happy Hump Day y'all! Hope you are all having a great week. I am honored to have been chosen to co-host one of my favorite link-ups, Wednesday Walkabout. Check it out below -
I know I should maybe save this for Fitness Friday, but I am just so excited! S surprised me with a little gift a couple nights ago.
It was a "just because" gift and it was perfect because I've been wanting one for a while now. I tried it out for the first time last night, however, I don't think I had the chest strap tight enough. The instructor of the class that I took at the gym has the same exact one and she said that once you get the hang of it, it works really good. Can't wait to start logging my workouts!
On to the link-up!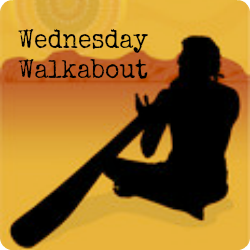 What is a Walkabout? It's a blog link-up party, every week here and with our co-hosts! Simply put your blog address or a specific post in the linky, visit some other people, and make some friends. Easy at that! I can't wait to talk to everyone!
PS: You only have to link up with ONE of the co-hosts!

The Rules:
1. Please follow at least ONE hostess, and let us know you're a new follower and how to follow you! To be entered as next week's Mystery Host, follow all hosts from this week.
Mystery Host Kelly- Honor, Courage, Commitment
2. Try to visit 3-4 blogs that interest you. Take some time and let them know where you came from.
3. Grab the button and spread the word! (Not required, but just cool if you do). The more, the merrier.