Lindsey and I met around this time last year through blogging when we put two and two together and realized that her husband worked with my boyfriend and they were on the same softball team on base! Since then, we have gotten to hang out quite a bit whether it be at a softball game, a friend's house, or chit-chatting over lunch. Did I mention that she went into labor when she and I were out Christmas shopping together??! Good times.
I'm happy to have her visiting on my blog today. Be sure to check out her
blog
, I promise you won't be disappointed. She has the cutest little baby boy, Liam.
------
Hey Honor, Courage, Courage, Commitment readers. I'm Lindsey and I blog over at
Lounging with Lindsey
. Kelly has been so kind to let me take over her blog today while she's relaxing in Florida. Lucky! Kelly gave me the reins and said I could talk about whatever I wanted, but since she talks about health and food at least once a week, I decided that I would talk about that, too.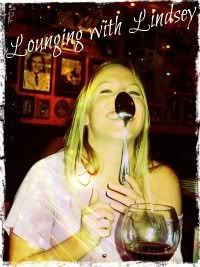 I absolutely hate working out, so I try to stay healthy other ways. I decided to compile a list of thing I do [that probably many people do] to stay semi-healthy without hitting the gym.
1. Eat healthy as often as possible. This seems obvious, right? Well it isn't always that easy, especially when eating out. Whenever we eat out I try to pick a semi-healthy option. That is usually salmon or another fish, grilled--not breaded and fried. Or grilled chicken. I also pick healthy sides. One of the restaurants we like lets you choose 2 sides, but they only have 1 healthy option--steamed broccoli. I'm often ordering, "a side of broccoli and a side of broccoli." They laugh, but I love broccoli. And don't get me wrong, sometimes I take a few fries off of my husband's plate or order my own, but that all has to do with the next thing on my list...
2. Portion control. This is something I'm pretty good at. I know that I don't have to finish everything on my plate, so when I feel full I try to stop eating. Sometimes it's not that easy, but you have to indulge every once in a while.
3. We also try to eat healthy at home. We recently decided to make the switch from sour cream to greek yogurt, and you honestly can't tell the difference! I actually like it better! At first I was a little skeptical of putting yogurt on tacos, but if you get the plain it seriously tastes like sour cream. There are also other ways you can substitute greek yogurt. If you aren't sure about it, just buy a small container to start and I'm sure you won't be disappointed.
4. Go on walks. Liam doesn't nap well during the day unless he's in his carseat, so instead of going for a drive, we go for a walk. Walks don't quite feel like exercise to me, but it's still staying active. I try to squeeze these in whenever I can, like when I need to kill time while waiting for TJ's softball games to start.
5. Bribery. I love listening to audiobooks, so I only allow myself to do so when I'm out walking. I just started this in April, and it's really been working, because every time I want to know what's next in my book, I have to go on a walk and I'm trying to figure out when I can get the next one in.
6. Now I don't always eat healthy. I love desserts and baking. Instead of giving that up, I still bake but I give most of it away. I take some to the neighbors or TJ takes it to work. It's a win-win.
7. Another thing I've been trying lately is the healthy versions of recipes. I know that some recipes are a total bust, but some are pretty good. I recently made healthy chocolate muffins and they were awesome.
Well ladies [and gents?], that is all I have for you today. I hope you'll come visit me at
Lounging with Lindsey
. And feel free to let me in on your workout tips [or how to get away with not working out]. And a big thanks to Kelly for letting me take over your blog today. I hope you're enjoying the sunshine in Florida!