Hey y'all, hope you had a great weekend! It was another beautiful one here in Charleston and I'm looking forward to many more just like it.
Friday:
S and I had a little date night at Carrabba's. Have you ever had their Blackberry Sangria? It's sooo good!
Saturday:
S had to teach the sailing course up at the lake so we spend the day up there. In the afternoon, he had his students up for a cookout and we barbecued hot dogs and hamburgers for them.
Later in the evening, we had a couple friends over to our house to cookout and swim at the pool.
Sunday:
We went to brunch with our same friends from the night before at
Charleston Cafe
. I had heard great things about it and was excited to try it for the first time, however, I was a little disappointed. I had the blueberry pancakes, which were one of the specials and they were very dense and heavy and doughy in the middle :( I am willing to give it another try though and will definitely order something different next time.
Iced Hazelnut Latte at brunch yummm!
In the afternoon, we picked up a few things for the garden at Lowe's and did some stuff around the house. We also made
grilled pizzas
...again, and they were awesome! I just can't get enough of them and it has quickly become our Sunday night tradition :)
I'm looking forward to running the
Summer Kickoff Virtual 5k
this week and will be linking up next Tuesday. Good luck to all other participants!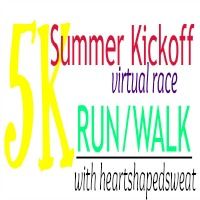 Have a great week!